PAGE VIEW : 2,597
Product Information :

Name :
Open face Excavation Machine & INTERMEDIATE JACKING STATIONS
Category :
เครื่องจักร, อุปกรณ์เกี่ยวกับเครื่องจักร, เครื่องมือกล
Sub - Category :
Palmieri SPA
Model :
Open face Excavation Machine & INTERMEDIATE JACKING STATIONS
Product Type :
สินค้า, ผลิตภัณฑ์
Short Description :
Palmieri uses only the finest European steel, robotic material handling systems and ultra modern CNC (computer numerical controlled) milling machines.
Product Detail :
O.M.M. Open Micro Machine
(Open face Excavation Machine)
Equipment for boring (internal I.D.) diameter circular section for pipes and tunnels between 1.200 and 3.500 mm, in a dry soft or soft and semi-stable or stable soils. The machine is pushed forward thanks to the thrust force provided by an adequately sized power unit placed on board the control container located outside the tunnel. During the drive, concrete (or other materials) pipes are inserted from the outside also transmitting the thrust from the pushing unit to the machine can, in addition to their obvious lining purposes.
The excavation is performed by a telescopic boom revolving on a turret; the boom is equipped with the most suitable excavation system which must be selected in advance according to the geological conditions to be encountered during the drive: different systems include a simple mechanical backhoe excavator, in the presence of soft soil or a point attack cutter boom with picks or teeth for medium hardness geology. The equipment is visually guided and controlled by an operator who sits inside the machine shield from where he can conveniently monitor the driving operations and progress. The spoil is removed by a conveyor belt placed in proximity of the excavation face and is then collected and transported from there to the back of the machine, where appropriate muck skips are loaded and then hoisted to the surface.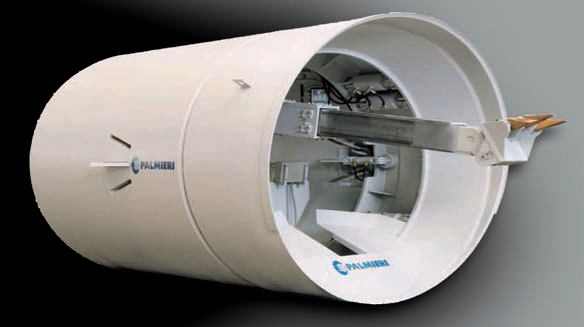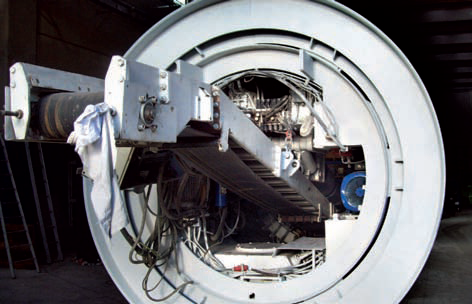 INTERMEDIATE JACKING STATIONS
When boring drives exceed 100/150 linear metres, very often the main jacking station alone is not powerful enough to provide the machine (either RCM or OMM) with the necessary thrust as required to advance. The maximum drive length that can be obtained by only using the external main jacking station is not constant and cannot be precisely predicted, due to the presence of several factors such as the pipes frictions, the pushing force
and the pipes diameters. In such a case, when the pipe diameter is large enough to allow the entrance of an operator, the adoption of intermediate jacking stations is recommended. Such devices (operated by the machine operator via the on board PLC computer located inside the container's cabin) are located between the boring
lining pipes at pre-determined intervals according to the job specifications and provide the additional pushing force to advance. Palmieri Group can supply a wide range of intermediate jacking stations, all tailor made and designed in accordance with the specific jobs and machinery features.