PAGE VIEW : 7,331
Product Information :
Name :
TBM CUTTER HEADS & INTERMEDIATE JACKING STATIONS
Category :
เครื่องจักร, อุปกรณ์เกี่ยวกับเครื่องจักร, เครื่องมือกล
Sub - Category :
Palmieri SPA
Model :
TBM CUTTER HEADS & INTERMEDIATE JACKING STATIONS
Product Type :
สินค้า, ผลิตภัณฑ์
Short Description :
• Tunnelling • Road Milling • Mining & construction - Raise Boring - Surface & Underground Mining - Stabilizing & Trenching - Directional drilling • Drilling - Foundation drilling - Diaphram wall cutters
Product Detail :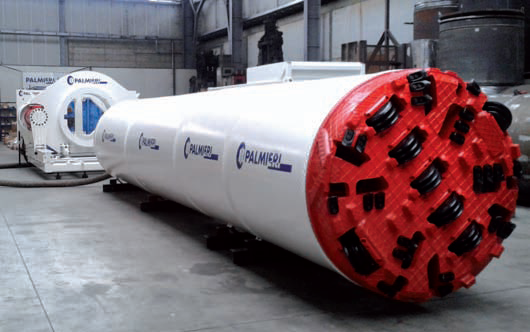 TBM CUTTER HEADS
What sets Palmieri Group apart from most competitors is our capability and skills in the design and manufacturing of cuttingheads. Such heads, up to 15 metres in diameter, are designed and manufactured in accordance with the specific needs of the TBM on which they will be mounted and of the specific geology to be encountered during the drive. Very often such cuttingheads are manufactured for existing TBMs whose boring diameter needs to be altered or the existing cuttinghead design is not deemed to be suitable for the geological conditions of the new job to be started. Clients may wish to keep the old cuttinghead and buy a brand new one which has been conceived, designed and manufactured for its specific needs.
The Palmieri Group can even manufacture cuttingheads that has been designed by its clients; as often made in the past for some of the most respected and well known TBM makers worldwide.
Palmieri Group products' fields of use is very wide and well diversified. From small sized items as, for instance, TBMs' tail brush seals to the manufacture of large and sophisticated Back-Up systems. Here below some additional examples of Palmieri Group products:
• Concrete segments erection systems for tunnel wall lining, all shapes and sizes, designed and engineered upon request and based on clients' specific needs (job type, segments shape and size).
• Besides the manufacture of complete segment erection system, Palmieri Group can also supply specific related accessories and parts such as spherical pins for segments with a wide range of threads and sizes.
• Mucking out systems, either by belt or via screw conveyor systems.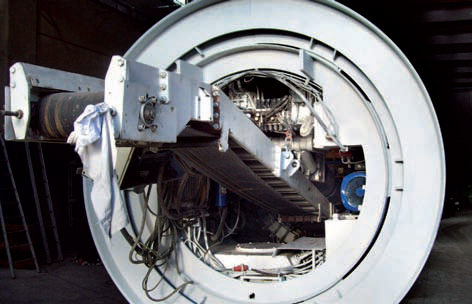 INTERMEDIATE JACKING STATIONS
When boring drives exceed 100/150 linear metres, very often the main jacking station alone is not powerful enough to provide the machine (either RCM or OMM) with the necessary thrust as required to advance. The maximum drive length that can be obtained by only using the external main jacking station is not constant and cannot be precisely predicted, due to the presence of several factors such as the pipes frictions, the pushing force
and the pipes diameters. In such a case, when the pipe diameter is large enough to allow the entrance of an operator, the adoption of intermediate jacking stations is recommended. Such devices (operated by the machine operator via the on board PLC computer located inside the container's cabin) are located between the boring
lining pipes at pre-determined intervals according to the job specifications and provide the additional pushing force to advance. Palmieri Group can supply a wide range of intermediate jacking stations, all tailor made and designed in accordance with the specific jobs and machinery features.